CW Gambles' Farm Restoration Project
We have started a new phase
in the restoration of the CW Cabin.
View the latest photos here.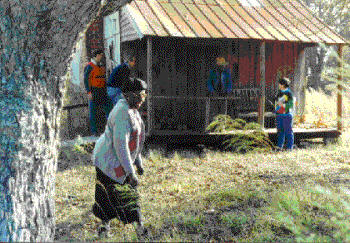 CW Gambles House with visitors from Fall "Hog Killin' Time" Barbecue, including (front) Mrs. Johnnie Carr and (rear) Bruce Runk, Mike Sherman, CW Gambles, and Annette Reid.
In June of 1996, Cox Family Heritage Farm, Inc. (CFHF) acquired 60 acres of land. The previous owner of the property, CW Gambles, resided on the property in a rustic cabin. Mr. Gambles lived in that cabin from 1928 when he purchased the land from his uncle, Major Cox, until the fall of 1995.
Mr. Gambles operated a farm there for nearly 60 years growing cotton and peanuts as cash-crops and corn as livestock feed.
As a young man, CW worked for his Uncle Major. Major along with his three sisters…Hannah, Georgianna (CW's mother) and Lulu…inherited land from their father, Charles Martin Cox. Charles Martin and his brother, Hamilton, acquired title to the land in 1891 by purchasing it from their father's estate. The two brothers operated the 880 acre plantation as partners until Hamilton's death in 1910. At that time Charles Martin became sole owner of the property. Upon his death in 1915, the plantation was divided between his four children.
Growing up, CW worked as a farm hand for his Uncle Major. In part as a result of their close relationship, Major sold CW 60 acres of land in 1928. As a young man of 28, CW worked by day for his Uncle Major and cleared his land of virgin trees by night. Charles Cox, Major's grandson who was a boy at the time, helped CW clear the land with manual tools.
In a few years, CW built a cabin on the property and began farming. Initially, he plowed his fields with a mule and plow, grew cotton, and sold timber. In later years, he added cattle and gradually replaced the cotton growing with the cattle operation.
It is this "CW Cabin" that this project refurbishes. Located on a ridge, overlooking pastures and fields, the cabin sits among several large pecan trees. One must travel approximately one half mile from the public road to access the cabin, a trip CW made by foot, to check his mail box, for more than one half century.
This two room cabin can only be described as rustic. He used one room as his bedroom and the other as his kitchen. A fireplace in the bedroom supplied heat in cold weather. A 25 foot deep-well, located a small distance from his cabin supplied his drinking water. His livestock drank from a stream that traversed the property's east side. Some years ago he constructed a small pond by damming this stream to provide a dependable water supply for his cattle. When, in later years he stopped cropping, he grazed cattle on the entire farm.
As new owners, CFHF, Inc. desires to use the cabin as a primitive rental unit for hunters and other recreational users. Much work is needed in order to use the cabin for this purpose. CFHF, Inc. has contracted with MSquare, Inc. to refurbish the cabin. The owners want to keep the theme of the refurbished cabin rustic.
The Story behind the Restoration
~
Cox Family Heritage Farm, Inc.
Smuteye, Alabama

You are visiting www.smuteye.com/plantation
Contact us at cox@smuteye.com