Pavilion Guest House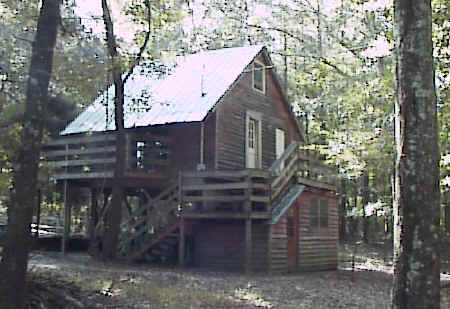 North Side
The pavilion guest house is a three-story wood frame structure built in 1995. The first floor consists of a fully equipped kitchen and outdoor covered patio area, with a 15 feet wet-bar. The second floor contains a carpeted living area, wood floor entryway and office space, full tile bathroom, and wrap-around porch (3 of 4 sides). The third floor holds a sleeping loft/bedroom with wood floor. It features a king-size waterbed and queen-size futon sofa/bed.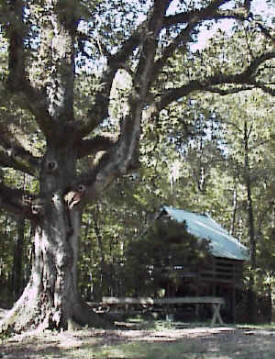 The Pavilion Compound, dominated by an approximately 300 year old oak tree also know as the Traditional Hog Killin' Oak, consists of the Pavilion, an outdoor cooking and serving area, and a fire pit.
The Traditional Hog Killin' Oak died in the early 2000s. Today, only the main trunk remains as a monument to its majesty as seen in the photo at right.
Outdoor Cooking and Serving Area. Set up to serve large groups, the outdoor cooking and serving area includes a barbecue grill (portable that will one day be replaced with a brick, built-in barbecue), an 80-gallon cast iron cooking pot, serving tables and a serving bar with working sink and cabinets.


Guests at the 13th Annual Hog Killin' Time Barbecue in November 2002.
The Coxes host this traditional event at the Pavilion annually.
For more information, visit www.smuteye.com/bbq.
Fire Pit. The fire pit is set up for safe outdoor bonfires. It is safely away from buildings and is sunken to curb windblown sparks.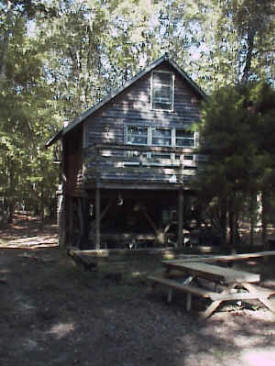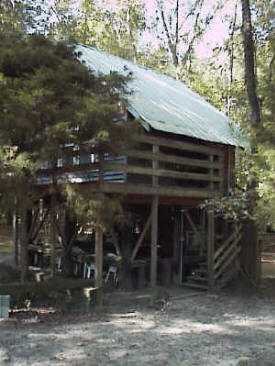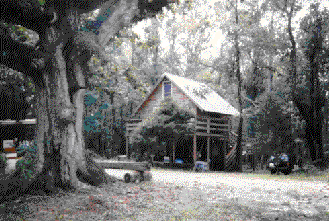 Pavilion front view looking under 300 year old oak.
Serving area partially visible.
The Story behind the Restoration
~
Cox Family Heritage Farm, Inc.
Smuteye, Alabama

You are visiting www.smuteye.com/plantation
Contact us at cox@smuteye.com