The Birth House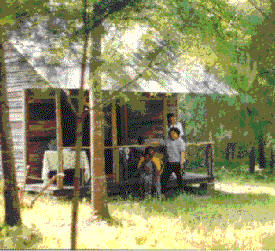 Birth House - front view. After the 1990 dedication ceremony.
The Birth House Compound consists of the Birth House and the Wine Cellar.
Birth House. The Birth House is a one room wood frame house re-built in 1988. It originally served as the kitchen of the main house. It was moved to its current location in the 1930s to serve as the newlywed home for Major Cox's parents, where it became his birth house.
In 1988, the Coxes dismantled the original building and built a new one, using the original siding and preserving the feel of the original home. The 160 sq. ft. house has another 160 sq. ft. of covered porch. It features wood floors, a double bed, refrigerator, and a TV/VCR.
An ongoing renovation is adding a full bath with shower and mini-kitchen (sink, microwave).
Wine Cellar. The wine cellar contains the fruits of the plantation's winemaking efforts. Though above ground, it is fully insulated to protect the subtle flavors of the wines.

Wine cellar

Old wine cellar at its prime.
In recent years, wine has been moved
to an underground cellar.
The Story behind the Restoration
~
Cox Family Heritage Farm, Inc.
Smuteye, Alabama

You are visiting www.smuteye.com/plantation
Contact us at cox@smuteye.com