The Tenth Annual hog Killin' time Whole Hog Barbecue Facts
DAY:
Saturday
Nov. 6, 1999
PLACE:
Cox Plantation in Smuteye.
TIME:
Festivities start around noon. The Pork Procession (serious eating) will begin between 2:00 and 3:00 p.m. plus we'll have a bonfire as the day cools.
Please let us know if you can join us!

R.S.V.P.
Nov. 1, 1999
(334) 264-9714
(Montgomery)
or
(334) 474-3271
(Smuteye)
BBQ Links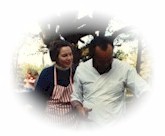 10TH ANNUAL
HOG KILLIN' TIME BARBECUE

SMUTEYE - Margaret and Major invite their friends from near and far to gather at the Cox's antique farm and celebrate the beginning of hog killin' time. This traditional feast was originally held by Majorís great grandfather and namesake to celebrate his grandsonís birthday.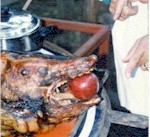 Today, our autumn festival (coincidentally near Major's birthday - don't ask which one!) continues to provide an afternoon of great food with good friends and fun-filled fall activities.
Wayne Jones will once again head the team of Pig Roasters, assisted by new lieutenant, John Moore. Roasting will start Friday evening and is expected to take at least 14 hours. A few brave souls will spend the night camped around the hickory and oak bonfire that produces coals for the pit.
The plantation offers hospitality and lodging for guests assisting Wayne and John. Call if youíd like to be one of the few, the brave. . .
The pork procession is usually around 2:30 pm on Saturday.
Margaret will continues the tradition and build a fire under the 80-gallon cast iron syrup kettle and create her Fabulous, Four-alarm, Fifty-gallon chili. Hobson promises to barbecue some more of his special delicacies. In addition, guests are invited to bring salads, vegetables, desserts, and beverages to add spice to the banquet.
We will start the bonfire as soon as temperatures allow. Chick Cleveland has agreed to return to serve as Fire Master, managing the wood gatherers around the fire pit.
The usual activities of hiking, touring the historic cabins, running in circles like a maniac and feeding uncountable peanuts to the goats and horses will all be available.
Valentine wants all her fans to know that she is no longer a devil-may-care teenager, but a mature, beautiful mare. However, I'd still be careful if I were you!
Be sure to bring your appetite!
Call us if you need a detailed map!
EXTRA! EXTRA!
YOU'RE INVITED!
We can't wait to see you! Don't forget that this is an outdoor event. Be sure to dress comfortably and casually! Bring a jacket or sweater to complement the brisk autumn air. In other words..."No high heels."
UPDATE ON THE HERDS

Some piebald beef cattle (Hereford-Angus cross bovines) have joined our farm entourage. We have 5 calves, not quite a year old yet.
Our African Pygmy - Bullock County Ranger Goats (caprines) are showing off several babies (we wonít be serving any). We think we're expecting more so we may have some newborns by November.
Our horse herd is boasting a new addition, Hermes [named for the ancient messenger of the gods], a sorrel colt born April 27th to Heaven and Hero (equines). They will be happy to visit, but not ride (other than a few photo ops).